Wednesday, August 1, 2012
HEU News
Town Hall Talk
MLA O'Mahony absorbs feedback regarding CGH acute care closure
Released by the HEU/Photo submitted
ore than 80 people turned out to oppose the closure of Chilliwack General Hospital's sub-acute rehabilitation unit at a town hall meeting organized by NDP MLA Gwen O-Mahoney this week.
Speaker after speaker took the health authority to task for the May 25 surprise announcement to close the 20-bed unit and replace it with outpatient services. They cited the complete lack of community and stakeholder consultation, the pressures the closure would put on patients and family members, and the limited home support services available in the area as major concerns.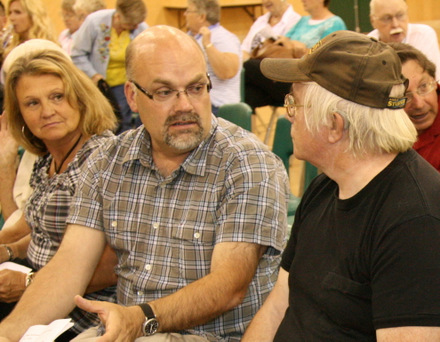 HEU secretary-business manager Bonnie Pearson, one of five panelists invited to participate in the town hall, backed comments from the audience about the lack of adequate home support services which along with transportation issues, the health authority has yet to address.
"We need more resources in home support and better transportation options for patients and their families," Pearson said. "And I'm not hearing a commitment from the FHA to increase these services and help offset the impact of the closure."
The panel also included a Fraser Health Authority representative who attempted to explain the rationale behind the closure move and answer many questions about the decision.
Rounding out the panel were spokespeople from the District Seniors Resources Society and Fraser Valley Brain Injury Association and Reid Johnson, president of the Health Sciences Association. All challenged the decision.
The closure will save $700,000 and is expected to be completed in September. A number of HEU members are impacted by the plan including licensed practical nurses, nursing assistants, nursing clerks and a rehab assistant.
For more information, visit www.heu.org
© Copyright (c) 2012 The Valley Voice